Assessing sediment connectivity and availability in several mountain catchments in the Veneto Region
Scientific collaboration in the frame of the Interreg Italia-Ӧsterreich project SedInOut – "Development of a risk management methodology through the assessment of the availability of sediment for mass transport in a mountain environment" (SedInOut)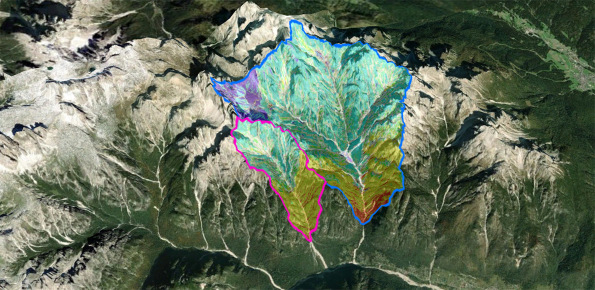 Background
Mass wasting is a threat to residential areas and infrastructure, causing widespread destabilization in alpine stream channels, also in relation to ongoing climatic changes. Although hillslope sediment supply represents a critical factor for stream channel stability during heavy rainstorms, there is a general lack of procedures for quantifying sediment availability and composition. Moreover, we lack validated empirical models for estimating hillslope sediment flux to the drainage network as a function of meteorological forcing.
Purpose
The collaboration agreement between CNR IRPI and Veneto Region in the frame of SedInOut project, through a joint international effort, aims to develop methodologies for the quantification and characterization of sediment on the hillslopes, towards a sustainable land management that values geo-risk mitigation and sediment recycling.
Methods
In two pilot areas (different basins on the left of the Ansiei stream in the municipality of Auronzo di Cadore and the Liera stream basin in the municipality of Canale d'Agordo), field geomorphological analyses will be carried out, along with mapping of multi-temporal inventories of sediment sources from aerial photos and orthophotos, interferometric processing on satellite data (mainly SENTINEL-1) and geomorphometric analyses for the estimation of sediment fluxes due to extreme events, as the Vaia storm, and for the characterization of sediment connectivity.
Results
Main expected results will be related to publications in scientific journals of the field and to presentations in international and national conferences, in which specific sessions will be organized.
Products
Inventories of sediment source areas;
Geomorphological and sediment connectivity maps;
Publications in scientific journals.
Conclusions
Starting from a series of test areas, the project will develop standardized data collection and methodologies applicable in perspective to the entire Alpine region and, through a more careful assessment of the availability of sediment for mass transport in the mountain environment, it will contribute to refinement of existing risk management methodologies.