Evaluating the geothermal potential in the Southern Regions of Italy
(VIGOR)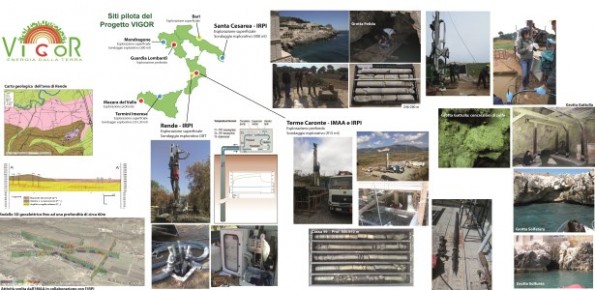 Background
VIGOR contributed to increasing knowledge in exploitation of geothermal resources. It was aimed at providing information useful to start exploration and utilization of geothermal energy, through reconnaissance, analyses and studies, valorise geothermal resources in Calabria, Campania, Puglia and Sicily.
In particular, geological and geothermal characterization were carried both at regional scale (i.e. maps of geothermal potential) and at the scale of the site, for a total of 8 sample areas (2 for each region) as well as studies of technical and economic feasibility of project proposals related to the exploitation of geothermal energy. VIGOR has promoted the use of geothermal resources, in order to raise awareness on the subject of technicians and population, and therefore of the socio-economic and productive environment of the considered regions.
Purpose
analyse the state of knowledge and organize a common database available for Calabria, Campania, Puglia, and Sicilia;
identify potential sources of utilization of geothermal energy in the four considered Regions, and define the geological, structural and hydrodynamic settings of these areas;
provide advices and recommendations for a widespread use of geothermal resources in the four considered Regions, within the context of the European Union commitment for sustainable energy, by ensuring the respect for the environment;
technical and economic feasibility studies of pilot sites;
convey information, expertise and intervention models deriving from the implementation of the Project.
Methods
The geothermal potential was evaluated both at the regional scale, through the analysis of sensitive parameters (geological, hydrological, thermodynamic, and climate parameters, and regulatory requirements), and at the local scale, through studies of the geothermal resources in pilot sites chosen in the four considered regions. The research included a phase of accurate collection of pre-existing data on the above parameters. Due to different formats and scales of available data, a preliminary phase of data elaboration and classification was necessary by using the Open Source Platform GEONETWORKTM. For the pilot sites, geological and hydrogeological surveys were also carried out, combined to geophysical and geochemical surveys. Finally, four deep exploratory wells in four different sites were drilled, with depths ranging from 300 to 900 m from the ground level.
Results
Data homogenization for geothermal potential assessment of the reference regions.
Geothermal potential assessment at regional scale for Calabria, Campania, Puglia, and Sicilia.
Definition of conceptual models of the geothermal resource of the pilot sites, and project proposals of its use.
Products
VIGOR leafleft
VIGOR brochure : UNA PROPOSTA DI SVILUPPO GEOTERMICO LOCALE 1° edizione Novembre 2011
VIGOR brochure: UNA PROPOSTA DI SVILUPPO GEOTERMICO LOCALE 2° edizione Settembre 2014
VIGOR volume: APPLICAZIONI GEOTERMICHE PER UNO SVILUPPO SOSTENIBILE, PRODUZIONE DI CALORE ED ENERGIA ELETTRICA (ISBN: 9788879580120)
VIGOR volume: PRIME INDICAZIONI TECNICO-PRESCRITTIVE IN MATERIA DI IMPIANTI DI CLIMATIZZAZIONE GEOTERMICA (ISBN: 9788879580106)
VIGOR volume: SVILUPPO GEOTERMICO NELLE REGIONI DELLA CONVERGENZA (ISBN: 9788879580113)
Geothermal energy potential maps (Calabria, Campania, Puglia, and Sicilia)
WEBGIS
Metadata catalogue
Scientific production
Feasibility reports of the pilot sites
Conclusions
The project has demonstrated how the energy from geothermal sources could be used not only to produce electricity, but also for air space conditioning or in industrial, agro-tourist and spa activities. At the same time the results have corroborated that the use of geothermal sources could result only from multidisciplinary studies of the geothermal resources.