Sentinel for Geohazards regional monitoring and forecasting
(SAFETY)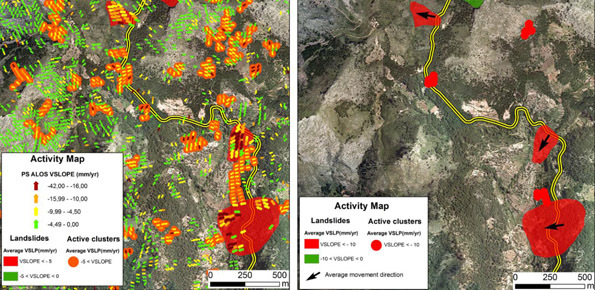 Purpose
SAFETY aims at providing Civil Protection Authorities with the capability of periodically evaluating and assessing the potential impact of geohazards (volcanic activity, landslides and subsidence) on urban areas. The project improves the effort to detect and map geohazards, assess their activity and evaluate their impact on built-up areas and infrastructures networks.
Methods
The objective will be based on:
the performance of SAR sensor Sentinel‐1, both in terms of wide area coverage and high temporal repeatability;
the development of a free software tool that exploits Sentinel‐1;
the exploitation of software tools and methods to assess geohazard susceptibility and its impact on urban structures and infrastructures.
Results
SAFETY will provide the following results:
open access tool to exploit Sentinel-1 data finalized to periodically detect and monitor ground deformations;
implementation and validation of the SAFETY project over two test sites (Canary Islands and Volterra);
the transfer to CPAs of tools and methods to assess geohazards susceptibility and their impact on urban structures and infrastructures.
Products
Safety will deliver an integrated set of tools and procedures to prepare the following products:
Software tools aimed to process Sentinel-1 data and to prepare deformation activity maps;
tailoring of existing tools developed to prepare susceptibility models and zonations;
geohazard activity maps and impact assessment of geohazard on structures and infrastructures.