Upper-middle Tiber river basin: the flood event of 25-28 november 2005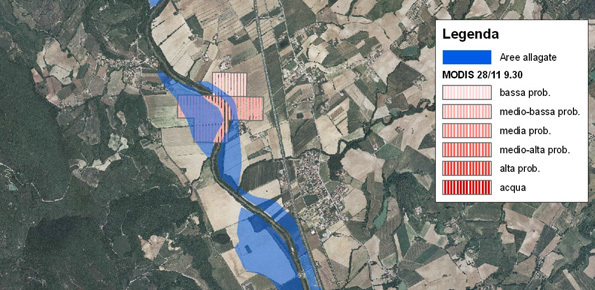 Background
On 25-27 November 2005, the territory of central Italy was affected by heavy rainfall that hit  the Tiber River basin and, mainly, the province of Perugia. The meteoric event had a significant phase with a duration of approximately 48 hours with widespread precipitation up to a maximum accumulated value higher than 100 mm. Significant increases in water levels occurred in most rivers of Upper-Middle Tiber
causing extended flooding in perifluvial areas and causing extensive damage to the territory.
Purpose
to analyze the event by using the recorded hydro-meteorological data;
to statistically characterize the rainfall and discharge values observed at the monitoring stations in the Upper-Middle Tiber basin;
to assess the effect of artificial reservoirs on the flood wave formation.
Methods
The flood event analysis consisted of the following activities:
assessment of weather condition;
thermometric and pluviometric analysis;
hydrometric analysis;
flood volumes evaluation;
application of one-dimensional and two-dimensional hydraulic modelling;
flow discharge measurements analysis;
analysis of artificial reservoirs effect on flood wave formation;
flooded areas delineation by using satellite images (RADARSAT, MODIS), aero-photogrammetric survey of the Department of Civil Protection, digital restitution of Firefighters flight, photographic surveys and inspections of Province of Perugia and field survey of IRPI-CNR.