Monitoring system for the Hahnebaum test site
Evaluation and application of a monitoring system for the Hahnebaum test site, Bolzano, South Tirol, in the framework of the Interreg Monitor II project. (Monitor II)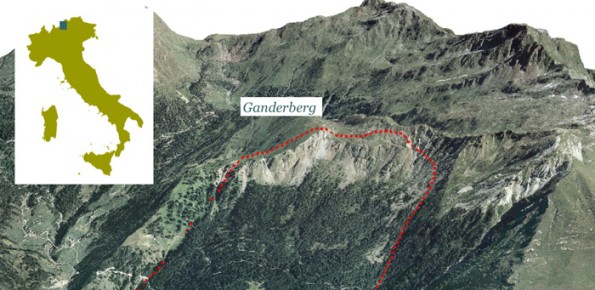 Background
A Deep-seated Gravitational Slope Deformation (DGSD) affects the south-west flank of mount Ganderberg (Moso in Passiria – BZ). The continuous displacements of the landslide induce secondary hazardous phenomena. A 800.000 m3 rock slab shows signs of incipient movement; a detachment could create a natural barrier on the river valley.
Purpose
The main purpose of the project is to provide the public administration in charge of the design of the Civil Defence Plan an effective tool to evaluate the hazard and manage the risk induced by the DSGSD. In doing so an integrated approach combining modelling and monitoring activities was implemented.
Methods
The deformations caused by the DSGSD are monitored by a network of GNSS benchmarks, of inclinometers and extensometers. The latter are installed over the unstable rock slab and the data are gathered in a quasi-real-time procedure. The use of a 3D model as DAN3D allows to define risk scenarios with a good reliability.
Results
The project is still in progress
Products
The project outputs consists of several paper published on international journals.
Conclusions
The modelling activities provided a range of possible risk scenarios to be included in the civil defence emergency plan. The data gathered from the monitoring system and the modelling are mutually dependent and their integration allow to periodically update a contingency plan, according to risk scenarios variations.