IntEractions between hydrodyNamics and bioTic communities in fluvial Ecosystems: advancement in the knowledge and undeRstanding of PRocesses and ecosystem sustainability by the development of novel technologieS with fIeld monitoriNg and laboratory testinG
(ENTERPRISING)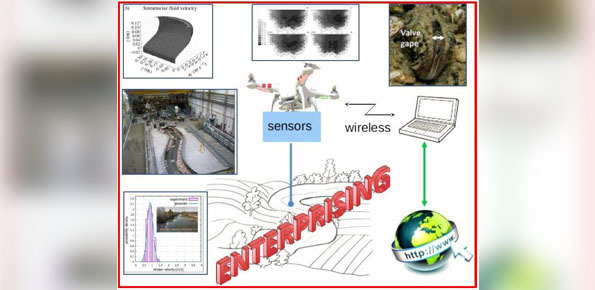 Background
The development of an innovative system for monitoring river flows during extreme events and the impact of hydrodynamic pressures on ecosystems are two important challenges identified by the World Meteorological Organization for flood event control and by the European Commission for the European Biodiversity Strategy for the protection of ecosystems and biodiversity.
Purpose
The overall objective of the project is the development of advanced technologies and innovative methods that, using radar and biological sensors, hydrodynamic models and algorithms, allow us, for the first time, to predict the river flows also during high floods as well as the impact of hydrodynamic processes on the river biotic communities.
Methods
Different levels of activity synergistically connected are identified:
monitoring of river flow by developing innovative no-contact technology;
modeling of interaction mechanisms between hydrodynamics processes and biotic communities;
the development of advanced technologies for monitoring the response of biotic communities to hydro-morphological changes;
the evaluation of the effects of hydrodynamic processes on river ecosystems for developing an effective Biological Early Warning Systems (BEWSs).
Results
The project will have some tangible benefits in terms of effective monitoring of hydrodynamic processes and biotic communities using also drones in the study area and may have wider application internationally. It has a high scientific impact proposing an innovative methodology to investigate the turbulent processes using an entropy constraint that links global flow parameters and flow section shape and area, to local quantities, easy to be measured in any natural streams, as the surface velocity and the water level. It will contribute to give better protection of ecosystems by the development of a Biological Early Warning Systems (BEWSs).
Products
Development of a lightweight miniaturized radar sensor to monitor river flow and the main hydrodynamic processes.

Evaluation and modeling of the effects of hydrodynamic processes on river ecosystem communities in different environments, as a base for the development of a Biological Early Warning System (BEWS).

Innovative on-line biomonitoring for a better protection of ecosystems and averting global biodiversity losses.
Conclusions
ENTERPRISING has a great potentiality from a technological, scientific and operational point of view. First, the project enhances knowledge, methods and, more importantly, technologies in support of robust, actionable discharge assessment for management of extreme events. Second, by blending new technology and refined modeling, the variation of the animal-species and vegetated-species behavioral responses to the hydro-morpho-dynamic parameters are identified, allowing us to define the biotic stress conditions as a measure of the ecosystem suitability.