Instability problems related to man-made cavities in the Municipality of Ginosa
Instability problems related to man-made cavities in the Municipality of Ginosa, Taranto province, Apulia.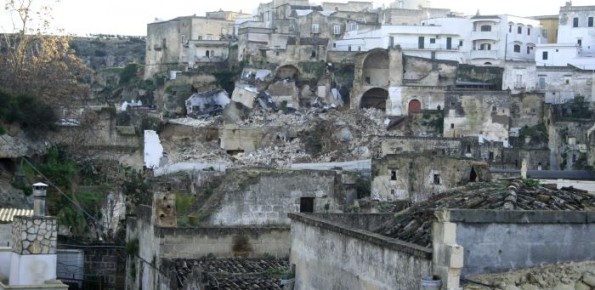 Background
The territory of Ginosa was severely affected by flood and instability problems in October and in December 2013, as many other municipalities at the boundary between Apulia and Basilicata. In particular, on October 7, 2013, four fatalities and serious damage had to be registered. Following these events, other instabilities have occurred, including the collapse of a stretch of Via Matrice, above artificial cavities, on January 21, 2014.
Purpose
Ascertain the presence of situations at risk within the part of the historical center at Ginosa, that was interested by the evacuation decree following the 21 January, 2014, event.
Methods
Speleological survey of the artificial cavities located in the study area, and implementation of a dedicated GIS. Preliminary assessment of the stability conditions.
Results
Ninety-two artificial cavities have been surveyed and analyzed, through a detailed cave survey, and a photographic documentation. In each cavity the main instability features have been surveyed, and the preliminary conditions of instability evaluated. The inventory so obtained is a precious tool for the Ginosa Municipality, but must be integrated by including the other parts of the historical center.
Products
Inventory and survey of about 100 artificial cavities, related location in GIS, and identification of the main instability features. Zonation of the territory as concerns the susceptibility to falls and collapses related to artificial caves. Preliminary analyses of stability.
Conclusions
The analyses carried out pointed out to many situations at risk in the historical center of Ginosa, where urgent works should be performed. The most critical sectors are the area of the collapse on January 2014, the plain and the southern slope at the Ginosa Castle, Via San Martino and Via Matrice. In addition to indications about the urgent works necessary, an hypothesis of monitoring actions has also been presented.