RiST2, the research go on
Research activities at high-elevation site (RiST2)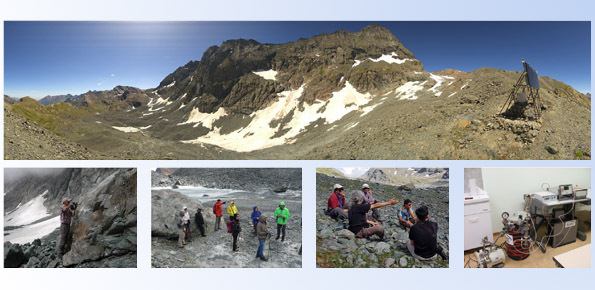 Background
The researches at high-elevation sites continues, thanks to the RiST2 project (co-financed by Fondazione CRT of Torino). The study area is the Bessanese glacial basin. The Alpine environment and in particular the cryosphere, is responding quickly and with great intensity to climate change. The air temperature increase observed in the Alps urge the scientific communities involved in natural instability studies to consider not only air temperature but also the temperature of the geological material potentially interressed. The metrological traceability of sensors and acquisition chains is fundamental for data comparability in space and in time and this can be achieved by the use of calibrated instruments, with known uncertainty of measurements. More information about previous RiST project are available at http://www.irpi.cnr.it/en/project/rist-project/
Purpose
Use the Bessanese glacial basin as a high-elevation instrumented site;
Study relations between climate variability and morphodynamic processes at high-elevation site;
Increase knowledge about the thermal conditions of the different geological materials involved in these processes (rock, debris, ice, water).
Methods
The use of micro data logger metrologically referenced and with known uncertainty of measurements allows an innovative approach towards the studied topics.
Products
Temperature data at high–elevation site, for different geological materials (air, rock, debris, water);
High-resolution images by means of Livecam 360° PANOMAX, of the Bessanese glacial basin;
Training of young university students through the activation of a high-altitude research "Atelier";
Aquisition of detailed digital terrain models by drones;
Dissemination results (publications, videos, meetings, field trip).