Kinematic of debris flows using Large Scale Particle Image Velocimetry (LSPIV)
(KINOFLOW)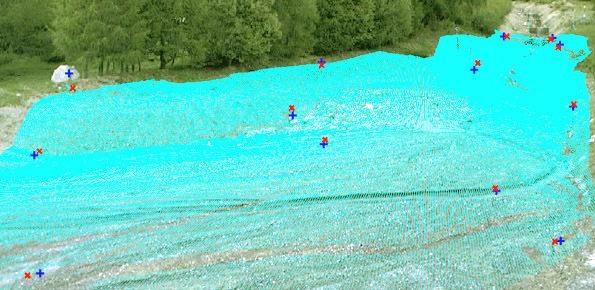 Background
Usually the video cameras installed within a debris-flow monitoring site have the role of recording videos to better understand the behavior of the event for an improved interpretation of its dynamic. The use of such cameras for Image Velocimetry purpose is still nowadays a challenge.
Purpose
The KINOFLOW project develops and applies photogrammetric techniques to series of images derived from debris-flow monitoring in order to estimate the surface velocity.
Methods
CNR IRPI was especially involved in the orthorectification of video-recorded images preliminary to LSPIV application. Orthorectified images were then produced for all the video frames under analysis and the Particle Image Velocimetry analysis was applied to these image sequences.
Results
Surface velocity fields have been computed for a number of debris-flow surges recorded in the Gadria Creek (Eastern Italian Alps) from 2011 to 2015. The values obtained are consistent with debris-flow velocities estimated by means of other methods, such as the cross-correlation between hydrographs recorded at different cross sections.
Products
The results of the project have been presented in a technical report. A paper that describes the techniques developed and the results obtained in the Gadria Creek is currently under preparation.
Conclusions
In spite of some difficulties that arose during the analysis, LSPIV represents an important opportunity for debris-flow surface flow velocity estimation. Research is still needed for a better quantification of the uncertainties related to this analysis.