Geomorphometry and sediment dynamics in mountain catchments
Study of landforms and geomorphic processes related to hydrology and sediment dynamics in mountain catchments through geomorphometry and field monitoring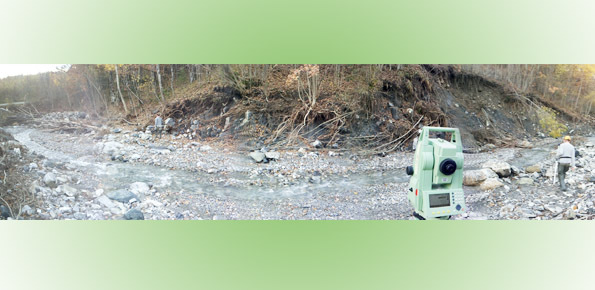 Background
The aim of the geomorphometric analysis is to derive indices capable of characterizing the spatial variability of specific hydro-geomorphological processes (e.g., sediment connectivity, erosion and deposit). The growing availability of high-resolution topographic data has increased the interest in geomorphometry and its applications. Debris-flow monitoring in instrumented areas and flash-flood documentation are invaluable ways to gather field data that may improve the understanding of these hazardous phenomena, as well as for the development of warning systems.
Purpose
The project aims at developing and improving geomorphometric indices and simple topography-based models for the hydrogeomorphologic characterization of sediment dynamic in mountain catchments. Moreover, the project aims at monitoring, documenting and analyzing debris flows and the geomorphic effects of flash floods to improve the knowledge of these processes.
Methods
High-resolution DTM analysis for the assessment of sediment connectivity and spatial pattern of geomorphic changes and development of GIS-based procedure for hazard assessment.
Debris-flow monitoring in instrumented catchments (Rio Gadria in the Autonomous Province of Bolzano and Torrente Moscardo in Friuli Venezia Giulia Region) and study of hydrologic control on trigerring conditions and on debris-flow volumes.
Documentation and analysis of flash floods and of the related geomorphological processes.
Results
Main expected results are related to the publications of obtained results in scientific journals of the field and to the presentations in international and national conferences, in which specific sessions will be organized. Sediment connectivity analyses also contribute to the achievements of the COST Action ES1306: Connecting European Connectivity Research.
Products
Publications in scientific journals;
New releases of the software SedInConnect, open source application for computing the Index of Connectivity;
Data base of debris flows recorded in the instrumented catchments;
Georeferenced data base on debris-flow volumes in North-Eastern Italy;
Update of the data base on flash floods occurred in Europe.