Stability analysis in the Fantiano quarries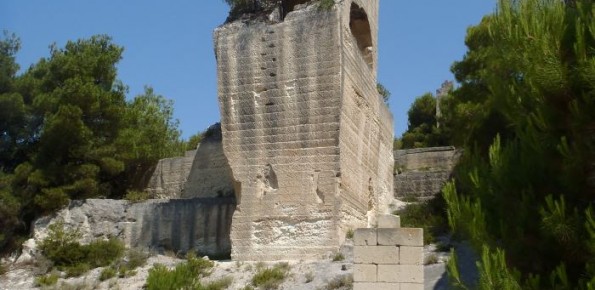 Background
The Fantiano quarries at Grottaglie (Taranto province) are an ancient sector of extraction of the local calcarenite rock, that is now used for concerts and shows. The instability phenomena observed in the quarries forced the Municipality of Grottaglie to ask to CNR-IRPI to perform stability analyses in the area.
Purpose
To guarantee the stability of the rock walls in the quarries, with particular reference to those located near the areas of transit or stay of the public.
Methods
Geological-structural surveys. Implementation of 2D and 3D finite element numerical codes for the assessment of the stability of rock walls.
Results
The rock walls above the theatre, and all the monoliths in the open-to-public area of the Fantiano quarries, have been object of dedicated finite element stability analyses. Where these pointed out the occurrence of local problems, the most appropriate stabilization works have been suggested, aimed at mitigating (or, possibly, eliminating) the related risk.
Products
2D and 3D stability analyses (finite element methods) of the examined rock slopes.
Conclusions
Some sites within the Fantiano quarries show clear evidence of instability, possibly evolving to falls in the future. Given the public use of the area, it is therefore necessary to perform stabilization works in order to guarantee the safety of the people attending the shows.